*UPDATE* – Thanks to the generosity of Chandy Russell, all donations made will be matched dollar for dollar up to a $25,000 total match!
The Friends of Camp Whitsett invites you to help us make history by contributing to our 2023 major campaign: a $50k promise to ensure Camp's new dining hall is completed and built to last for decades.
We are partnering with Camp Whitsett to make the long-awaited new dining hall a reality! The old dining hall (our beloved Big Top) was too small, too frail, and insufficient to support the planned program expansion.
The new dining hall will:
Exist as a full structure (walls and roof!) to withstand elements year round
Feature fans, lights, a new concrete floor, and a fire sprinkler system to improve comfort and safety
Support larger groups and more activities during the summer
Entice more outside groups during the off-season
Allow us to display photographs, maps, information, and memorabilia
Integrate directly with the newly renovated commissary, kitchen, and food serving area
A 21st century dining facility will contribute directly to a better and sustainable Whitsett Experience. Will you? Help us achieve our goal and donate today!
Interested in owning a piece of history by owning a literal piece of the retired Big Top? Contact the FOCW to let us know!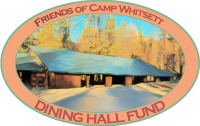 Donations in $
as of  11/21/2023
All donations MATCHED! If you help us get to $25k, our matching donor kicks in another $25k to make $50k total to complete the dining hall!
Help us build
the new Dining Hall!