Tragedy struck with the Windy Fire. The fire burnt over 100,000 acres in the National Forest, including parts of Camp. FOCW is now committed to helping Western Los Angeles County Council rebuild and re-open Camp Whitsett before the start of the 2022 Summer.
When we began accepting donations to the Phoenix Fund to Rebuild Camp Whitsett, we set an ambitious goal of $50,000, so that we could meet a matching challenge from Jim Pruss, a former Camp Director, longtime supporter of Camp Whitsett and member of Friends of Camp Whitsett.  We also set an ambitious deadline of March 31st to meet that goal.  WE DID IT!
Thanks to the generosity of so many of you, we met our goal over a month ahead of our deadline!  That means that we will be able to cover $100,000 of the Council's $250,000 insurance deductible – that's 40%!  
But our work isn't done yet.  The Council's insurance policy does not cover everything that was damaged in the Windy Fire, including both the C.O.P.E. Course and Shotgun Range program areas, and the bridges over Nobe Young and Bone Creeks.
Now that we have met our initial goal, we are hoping to raise additional funds, to help pay for those repairs not covered by insurance.  Council is still determined to make all necessary repairs in time to open Camp for the Summer program in less than 10 weeks, and the more funding that is available to buy materials and pay for necessary labor, the more likely they will achieve that goal.
If you have already donated, THANK YOU.  If you have not yet made your donation, please follow the link in this email and do so.  Every donation, no matter how small, helps Camp Whitsett.  Please, make a donation today!  Every donation is 100% tax deductible, so you benefit as well!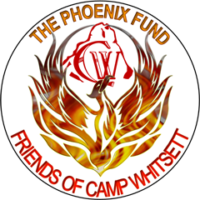 Donations in $
as of  04/09/2022
Help us rebuild
Camp Whitsett!