Tragedy struck with the Windy Fire. The fire burnt over 100,000 acres in the National Forest, including parts of Camp. FOCW is now committed to helping Western Los Angeles County Council rebuild and re-open Camp Whitsett before the start of the 2022 Summer.
FOCW has created the Camp Whitsett Phoenix Fund. This fund is specifically designated to support the Council with its efforts to reopen for the 2022 Summer. The Council deductible is $250,000. FOCW has committed to raising $50,000 of this deductible and Jim Pruss, a former Camp Director, long time supporter of Camp and member of Friends of Camp Whitsett has pledged a match once we reach $50,000, bringing our total to $100,000!
WE NEED YOUR HELP! Every dollar we raise will be worth twice as much, IF we meet our $50,000 goal.  We have set a deadline of March 31, 2022 to meet this goal.
Please, make a donation today!  Every donation is 100% tax deductible, so you benefit as well!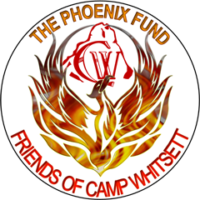 Donations in $
as of  01/16/2022
Help us rebuild
Camp Whitsett!