2023 Friends and Family Adventure Weekend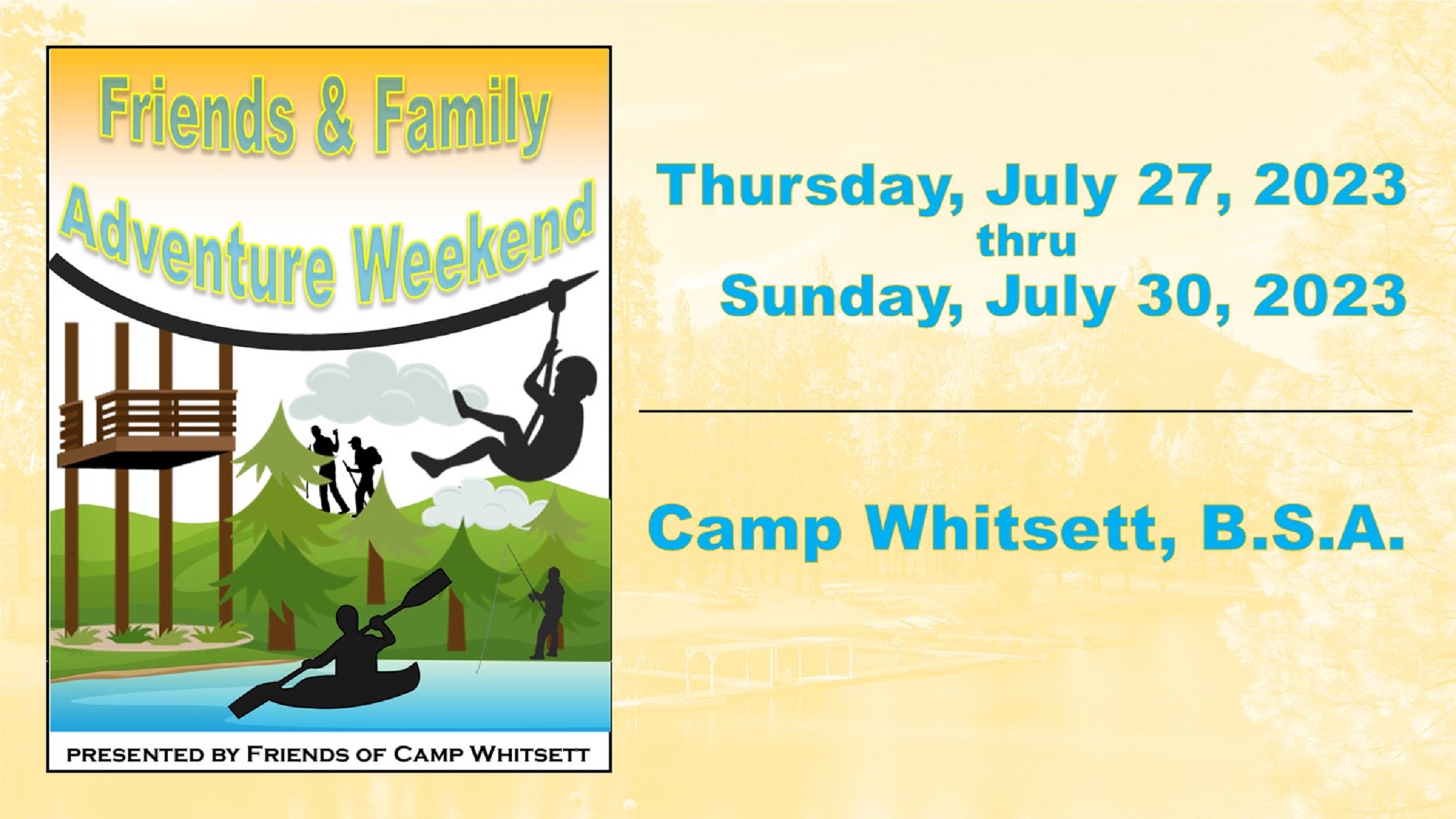 ---
ACTIVITIES
Hiking, Mountain Biking, Shooting Sports, Camp tours, Astronomy, High Ropes Course, Side trips to the Giant Sequoias, Campfires, Games and activities
REGISTRATION
Four Day Package  | July 27 – July 30, 2023
(includes Thursday Dinner thru Sunday breakfast, accommodations (platform tents w/cots), access to all in-Camp activities)
-> Adults (11 and older)  $95 per person
-> Youth (4 thru 10)        $65 per person
-> Age 3 and under         FREE
-> Former Staff              $70 per person (Staff 2018 and up)
Three Day Package  | July 28 – July 30, 2023
(includes Friday Dinner thru Sunday breakfast, accommodations (platform tents w/cots), access to all in-Camp activities)
-> Adults (11 and older)  $80 per person
-> Youth (4 thru 10)        $55 per person
-> Age 3 and under         FREE
-> Former Staff              $60 per person (Staff 2018 and up)
ADD-ONS
Upgrade to Cabin Accomodations (12 cabins available, first come, first served)
Staff Cabin w/built-in bunks – room for a household of up to 8 people, or 4 people from different households
-> Weekend Rental          $150 additional charge
Bring your own RV/trailer (5 spots with hookup, 17 spots w/o hookup, first come, first served)
-> No additional charge
---
All-you-can-hike at camp and beyond! Explore the 100 acres of the Whitsett property, hike up Sentinel peak with a camp-provided guide, and even visit the nearby Trail of 100 Giants.
All-you-can-climb at one of the nation's premier ropes courses! Test out the [insert permutation of routes here] ways you can explore the revamped high-ropes course, plus the [how many feet] zip line – there's even a climbing wall for the smaller or less-adventurous.
All-you-can-fire at one of the camp's three ranges! Enjoy bow-and-arrow at the archery range, test your firearm skills at the rifle range, or try the rebuilt and revamped dual-person shotgun range.
All-you-can-eat at the new dining hall! Breakfast, lunch, and dinner PLUS dessert prepared for you daily AND a mouth-watering surf-and-turf buffet banquet with wine and KRBC beer the final night. Vegetarian options available all weekend.
All-you-can-sleep in a cabin, tent, or under the stars! Rent one of our limited cabins (includes electricity and sleeps up to 8), enjoy the camp tents and cots, or bring your own tent and sleep (nap too!) in the peace and quiet of the forest.
And so much more! Fun crafts for all ages at the handicraft lodge, access to the astronomy telescope (the one that earned Whitsett a NASA partnership!), an FOCW sponsored campfire, use of mountain bikes, and a few more surprises…
This summer is particularly special as the FOCW will honor Chandy Russell with the fourth-ever Sentinel Award, earned by only those individuals whose contributions to Camp Whitsett have made a significant and lasting impact on the Whitsett Experience.
---
CANCELLATIONS for a full refund will be accepted thru July 15th. Refund requests after July 15th will be handled on a case-by-case basis.
All COVID protocols will be in force during the weekend, based on guidance from state and local authorities at the time, and all participants during the weekend are expected to comply. Information regarding this will be sent to you ahead of your arrival in Camp. By registering for this event, each individual accepts personal responsibility for their own health and safety, and that of their dependents.
---